Yes, you can! Rehab centers accept volunteers. Volunteers can help addicts at various recovery programs nationwide. Being an addiction center volunteer is a great way to help people heal.
In 2017, 20.7 million people over 12 needed addiction treatment. So there's a good chance of volunteerism in rehab.
Why does rehab need volunteers? How can you support their goals? Volunteering requires what talents and traits?
I will answer these questions based on my volunteer experience as a drug rehab volunteer.
Types of Volunteer Opportunities at Rehab Centers
Rehab centers usually need volunteers for various jobs. You can volunteer for the following depending on your talents, interests, and availability:
Administrative support
Rehab centers need administrative assistants to organize, file, and answer phones. You'll assist workers with daily tasks and maintain efficiency.
Patient care
Addiction volunteer as a rehab center patient care assistant if you care about others. You'll comfort and encourage treatment patients. Help them with meals, hygiene, and transportation. I had worked for patient care for almost 3 years which made me strong emotionally and I learned to care for others who are in need for treatments.
Fundraising
A volunteer at drug rehab center can be a part of fundraisers and can organize activities. You will raise funding for their programs and operations. Helping them with grant writing, donor interactions, or sponsorship solicitation is another addiction center volunteer duty.
Marketing and public relations
You can use your writing, design, and communication skills as a rehab center marketing or public relations assistant. An addiction volunteer will help them spread their purpose and vision and gain new clients and supporters. Help them with their website, social media, newsletters, and press releases.
Education and outreach
Addiction volunteer as an education or outreach assistant at a recovery center, if you love teaching, mentoring, or advocating, is a good choice. You'll teach others about addiction and rehabilitation. Help them connect with schools, community groups, and other organizations that may require their support.
How to Volunteer at a Rehab Center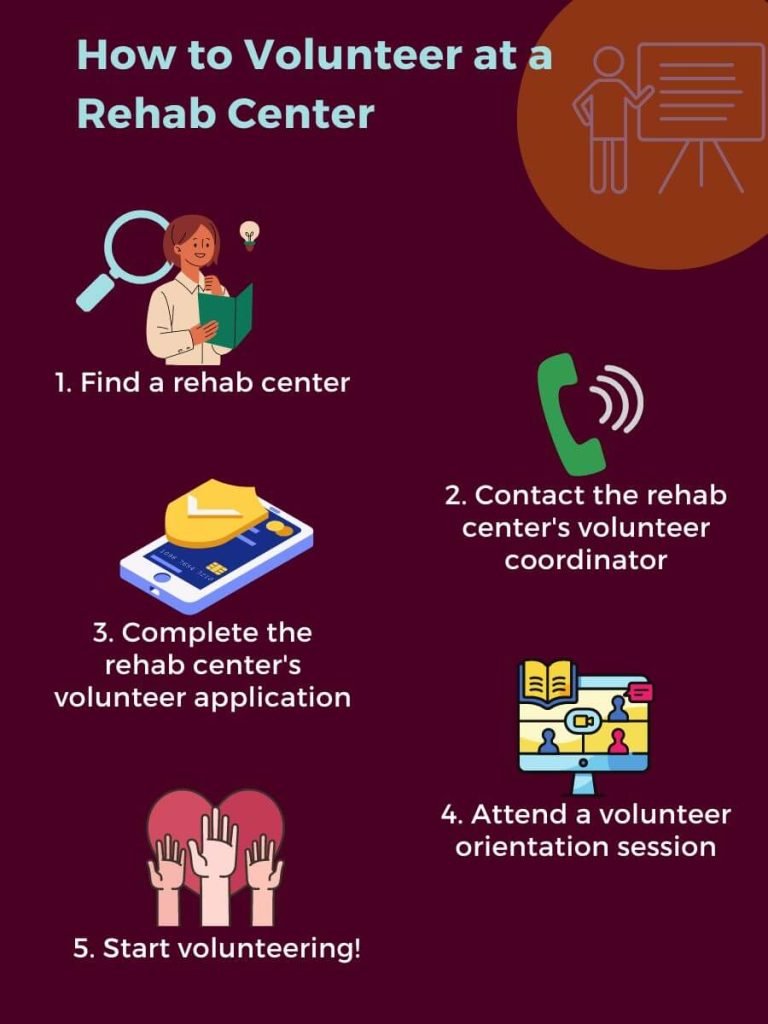 1. Find a rehab center
Find a local recovery center that accepts drug rehab volunteer. Search online, ask friends and family, or call your local health agency for suggestions. Check the treatment center's interests, talents, and availability.
2. Contact the rehab center's volunteer coordinator
Contact the treatment center's volunteer coordinator to volunteer. The volunteer coordinator will explain volunteer options, prerequisites, and expectations. They will also address your questions and schedule an interview.
3. Complete the rehab center's volunteer application
Third, complete the treatment center's volunteer application. The application may request biographical information, education, work experience, references, and volunteering reason. Rehab centers may require background checks, drug tests, and health screenings.
4. Attend a volunteer orientation session
Fourth, attend a volunteer orientation. The orientation will cover the rehab center's mission, vision, values, and services. Learn about roles of a volunteer at drug rehab center, duties, and rules. Volunteers and staff will introduce you to the facility.
5. Start volunteering!
Finally, volunteer! Your preferences and availability will determine your placement. The rehab center may need help with administrative work, recreational activities, educational programs, peer support groups, or other services. You will help addicts recover and learn essential skills.
Qualities and Skills Needed for Volunteer Work at a Rehab Center
Empathy and compassion
You'll interact with folks in painful recovery as a drug rehab volunteer. Empathize and be kind to them. Empathy and compassion can develop trust and rapport with clients and make them feel supported and cared for.
Non-judgmental attitude and respect for confidentiality
Society stigmatizes addicts. Their condition may make them humiliated or guilty. As a volunteer, you must respect their dignity and privacy and not judge their past or present decisions. You must also keep client information confidential.
Strong communication and active listening skills
Volunteer addiction services, especially in a recovery center, require communication. Communicate well with clients, staff, and other volunteers. Active listening involves listening to customers, asking open-ended questions, expressing their thoughts, and summarizing essential points.

Active listening can improve client understanding, exhibit interest in their tales, and encourage them to open up.
Patience and understanding
Recovery is complicated. Clients and volunteers must invest time and effort. Clients may have setbacks, relapses, or frustrations, so be patient. In my experience, it is important to recognize their hardships but also appreciate their growth, as well as be encouraging but not demanding.
Flexibility and adaptability
Days of addiction volunteer are unpredictable. Every day may bring new experiences. You must adapt to shifting situations and demands. Be receptive to learning from staff, volunteers, and clients.
What are the time commitments involved in volunteering at a rehab center?
To assist addicts' rehabilitation, you can consider volunteering at a recovery center. Yes, there are various ways to help people. Before volunteering at a recovery center, you should know what to expect and the time obligations.
Volunteering at a recovery center is rewarding but needs commitment. Drug rehab volunteers may require a set number of hours per week, month, or year. Some treatment institutions need a one-time event or project, while others require at least 4 hours each week for 6 months. Your support and flexibility can make a tremendous impact on staff and clients.
Some of the typical volunteer roles at a rehab center include:
Peer mentor
Peer mentors can share their recovery experiences with addicts. This can be a major thing in volunteer addiction services. You can inspire and uplift others. Help them find resources, attend meetings, and apply for jobs.
Group facilitator
Group facilitators lead or co-lead client support groups, instructional programs, and recreational activities. You can assist customers feel comfortable expressing themselves, learning new skills, and having fun.
Administrative assistant
Administrative assistants answer phones, greet visitors, file paperwork, and organize events for the rehab center. You can fundraise, market, or seek out to support the treatment center.
Maintenance worker
Maintenance workers clean, paint, garden, and repair rehab center facilities. Help with exceptional projects like room renovations or playground construction.
Rehab centers have several volunteer opportunities. Your skills and interests may fit other positions. Ask your local recovery center what they need and how you might help. They will match you with a volunteer opportunity.
The Impact of Volunteering at a Rehab Center
Rehab center volunteering may be a meaningful opportunity to give back to your community. Rehab center volunteering can benefit you and others.
Rehab volunteer rewards include:
You can change addicts' lives
Volunteering at a recovery center lets you serve others with compassion. If you have any, share them to help others.
Recovery can be supported, encouraged, and hoped for
Recovery might be bumpy. You can inspire sober others by volunteering. Celebrate their successes and help them overcome failures.
Addiction and recovery education is possible
Society misunderstands and stigmatizes addiction. Volunteering at a rehab center can remove addiction and recovery myths. You can also educate people on addiction's causes, effects, and therapies and fight for increased resources and help.
Help promote addiction treatment
Many addicts don't get help or can't afford it. Volunteering at a rehab center helps raise awareness of addiction treatment's efficacy. You can also encourage people to get treatment or recommend them services.
Rehab volunteerism is gratifying
Learn new talents, meet new people, and change the world. You can find treatment center volunteer opportunities in your region.
Stories of success that have come from people who have volunteered at rehab centers
Addiction recovery volunteers have several options. Rehab centers need people with addiction experience, health care experience, or a willingness to help.
Don't believe me. Volunteers in recovery centers have had success stories. These stories will motivate and demonstrate your volunteer effect.
Lisa volunteered as a peer mentor at a women's treatment center. Lisa knew how hard it was to quit alcoholism after years of battle. After finishing her rehab program, she wanted to help other women.
Amy, a rehab newbie, was matched with Lisa. Lisa advised, supported, and befriended Amy. Lisa assisted Amy with job searches, apartment applications, and family reconnection. Lisa helped Amy finish her recovery program and start a new life. Amy called Lisa an angel who saved her from despair.
James taught soldiers yoga at a recovery clinic. Former soldier James used narcotics to cope with PTSD. Yoga helped him overcome addiction and mental illness, and he wanted to share it with other veterans. He volunteered at the recovery center, teaching yoga twice a week.
Yoga helped James and his students relax, breathe, and stay present. Yoga fostered trust and connection among veterans, who felt safe expressing their tales and feelings. Volunteering at the recovery center offered James a purpose and a means to help his fellow troops.
Maria, a homeless recovery center volunteer cook, is the third story. Maria wanted to make people happy with her cooking and baking. She cooked for residents and staff at the recovery center.
Maria said she cooked to convey her affection for people who had suffered so much. Cooking helped her bond with the elderly, who liked her meals and regularly complimented her. Maria enjoyed volunteering at the treatment facility because she felt valued.
These are some rehab volunteer success stories. Many more tales like this demonstrate how volunteering can improve someone's life.
Volunteering in a recovery center might help addicts in a meaningful way. Learn new skills, meet new people, and get mental health experience. You can help with administrative work, emotional support, or group activities. Rehab centers need volunteers of many kinds. You just need compassion and a willingness to help.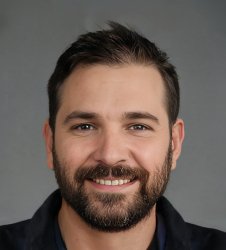 Latest posts by Tony McKenzie
(see all)