Yes, Medicaid drug rehab covers your needs. Addiction impacts millions globally. Substance misuse can severely affect individuals, their families, friends, and society. Good treatment and aftercare work, according to the American Addiction Centers.
Addiction's physical, emotional, and psychological toll is tremendous. Therefore compassionate, effective interventions are needed. Let's explore the widespread methods of Medicaid coverage, drawing from insights provided by leading addiction treatment specialists who have seen the profound impact of this program.
What services does Medicaid cover for drug and alcohol addiction?
Screening and Brief Intervention
Medicaid drug rehab covers drug and alcohol screening and brief intervention. Healthcare providers can identify people at risk of substance abuse using these services. Brief treatments address dangerous substance use behaviors and encourage subsequent treatment if needed.
Outpatient Treatment
Medicaid alcohol rehab covers outpatient treatment. This option gives non-needy people flexibility. Outpatient programs allow patients to continue their everyday routines while receiving counseling, therapy, and medical care.
Intensive Outpatient Treatment
Medicaid rehab coverage covers intensive outpatient treatment (IOP) for those who need it. IOPs may include group therapy, individual counseling, and family support.
Residential Treatment
Medicaid covers residential treatment. Residential treatment places addicts in a rehab facility. This immersive atmosphere of Medicaid drug rehab offers rigorous therapy, counseling, and medical care.
Medication-Assisted Treatment (MAT)
MAT is essential for opiate and alcohol addiction treatment. Medicaid rehab coverage covers methadone, buprenorphine, and naltrexone, which reduce cravings and withdrawal symptoms so patients may focus on recovery.
Detoxification
Medicaid rehab coverage covers medically supervised detoxification and safely managing drug and alcohol withdrawal symptoms. This program ensures a safe and comfortable transition into addiction treatment at the start of a treatment plan.
Counseling
Addiction treatment includes individual, group, and family counseling, which Medicaid pays for. Counseling helps addicts address their difficulties, learn coping skills, and adopt better habits.
Aftercare
Aftercare services help maintain sobriety and avoid relapse. Medicaid alcohol rehab provides aftercare programs, including counseling, support groups, and other tools to assist people in adjusting to life after treatment.
Are You Eligible for Medicaid?
Each state's Medicaid program follows federal criteria. In 2017, according to SAMHSA, 8.4 million US adults had a substance use disorder and a mental health condition, yet only 9.1% received both types of care. Therefore, eligibility varies.
My cousin applied for Medicaid to cover his drug rehab costs. The application process, I must say, was not without its hurdles as I helped him through this. However, common eligibility conditions are-
Income Limits
Medicaid alcohol rehab targets low-income families and individuals. The household's income relative to the FPL determines eligibility. Child, pregnant, parent, and non-disabled adult income restrictions may vary by state.
Household Size
Household size affects eligibility. Medicaid eligibility is higher for larger, lower-income households.
Disability Status
Even if their income exceeds Medicaid income limits, Social Security Administration- or state-defined disabled people may qualify for Medicaid.
Documentation You Need
Medicaid addiction treatment application documentation varies by state and scenario.
Commonly requested documents include-
Proof of Identity
Government-issued photo ID, passport, or birth certificate.
Proof of Residency
Documents showing current address, such as utility bills or rental agreements.
Proof of Citizenship or Immigration Status
U.S. passport, birth certificate, or other documents demonstrating legal status.
Income Verification
Pay stubs, tax returns, or other income-related documents.
Bank Statements
To verify assets and resources.
Social Security Number
For all household members applying for Medicaid benefits.
Apply for Medicaid
People can apply for Medicaid through their state's Medicaid department or Healthcare. The Affordable Care Act increased Medicaid in several states, allowing more income-based applicants. Apply online, in person, or by mail.
Waiting Periods for Medicaid
Some states require a waiting period before determining Medicaid eligibility and activating benefits. Pregnant ladies and disabled people can enroll immediately.

According to SAMHSA, 90% of drug users don't get treatment. 17% of rehab participants leave unsupervised. Medicaid applicants must research each state's regulations because they vary. Contact the local Medicaid agency or a professional enrollment counselor for individualized assistance with the application process.
What are the steps to get Medicaid coverage for drug and alcohol rehab?
State and Medicaid program requirements for drug and alcohol rehab coverage differ.
My cousin John's journey to recovery, made possible through Medicaid, is a prime example of how the program can change lives. His story highlights the effectiveness of Medicaid-covered services.
He shared his insights with us about the process and other little things. The process is usually as follows-
Step 1: Determine Medicaid Eligibility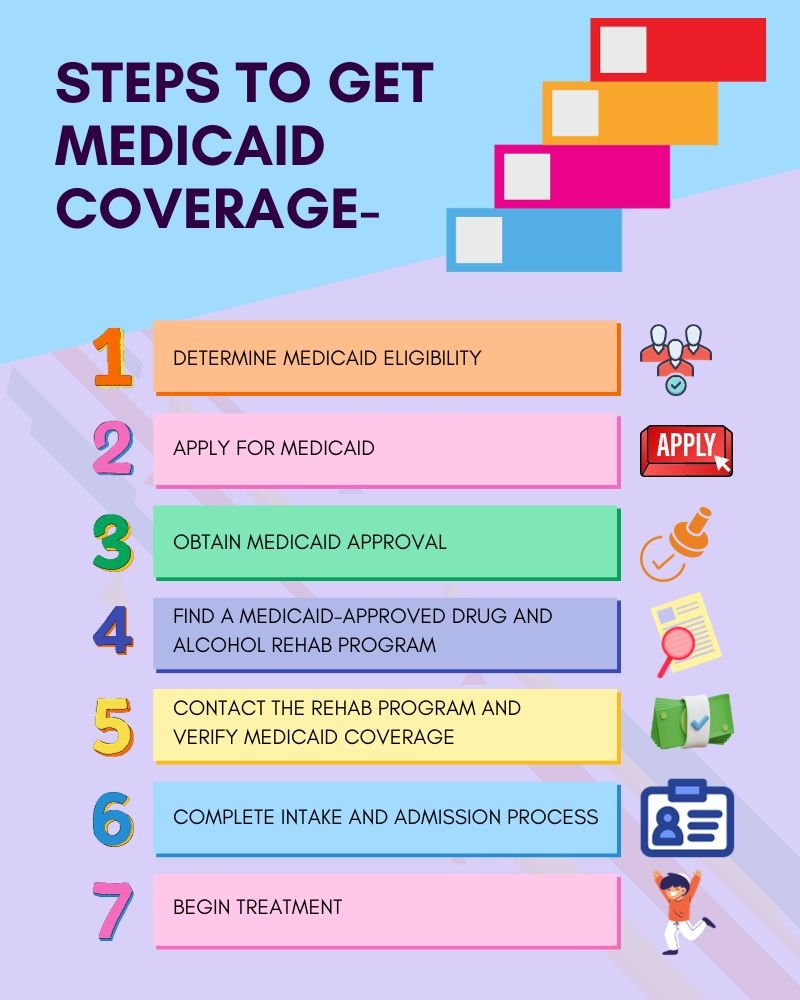 Check state Medicaid eligibility requirements before applying. Income, household size, and handicap status are usually considered. If you qualify, apply.
Step 2: Apply for Medicaid
Your state's Medicaid agency or Healthcare.gov accepts Medicaid applications. You can apply online, at a local office, or by mail. Provide income, domicile, and citizenship verification.
Step 3: Obtain Medicaid Approval
Your Medicaid rehab coverage eligibility will be confirmed after processing and approval. Your Medicaid coverage now includes drug and alcohol rehab.
Step 4: Find a Medicaid-Approved Drug and Alcohol Rehab Program
Find Medicaid-accepting rehab programs. The program's website or staff can provide this information. Choose a reputable rehab center with the services you need for rehabilitation.
Step 5: Contact the Rehab Program and Verify Medicaid Coverage
Ask your chosen rehab program about Medicaid drug rehab coverage. Ask if they accept Medicaid and what papers they need.
Step 6: Complete Intake and Admission Process
After verifying Medicaid acceptance, finish the treatment program's intake and admission process. This may require more paperwork, medical history, and an assessment to determine your treatment strategy.
Step 7: Begin Treatment
After intake, you can begin drug and alcohol therapy at the approved institution. Your treatment strategy may include counseling, therapy, medication (if needed), and other supportive services.
Remember that your state's Medicaid addiction treatment program may have different services and processes for drug and alcohol rehab coverage. If you need help applying for or receiving care, call a Medicaid enrollment counselor or your state's Medicaid organization.
What's the Difference Between Medicaid and Medicare?
Eligibility
Medicare covers 65-year-olds, some younger disabled people, and those with End-Stage Renal Disease (ESRD), whereas Medicaid covers low-income households.
Funding
Medicare is federally supported, while Medicaid is state-funded.
State Administration
The federal government controls Medicare, while states manage Medicaid.
Coverage
Medicaid covers long-term care and drug and alcohol rehab. Medicare covers hospital, medical, and medication services. Coverage gaps may be filled by private Medicare Advantage (Part C) plans.
Costs and Premiums
Medicare costs and premiums are uniform by plan, while Medicaid costs and premiums vary by state and individual circumstances.
Enrollment
Medicare enrollment is based on individual circumstances, but Medicaid addiction treatment enrollment is continual.
Long-Term Care
Long-term Medicaid care includes nursing home care. After hospitalization, Medicare Part A covers skilled nursing facility care but not custodial long-term care.
Key Differences
| | | |
| --- | --- | --- |
| | Medicaid | Medicare |
| Eligibility | Primarily for low-income individuals and families, certain elderly, and disabled individuals. | Generally for individuals aged 65 and older, some younger individuals with disabilities, and those with End-Stage Renal Disease (ESRD). |
| Funding | Funded jointly by the federal government and individual states. | Funded by the federal government through the Medicare program. |
| State Administration | Administered by individual states with federal oversight and guidelines. | Administered solely by the federal government. |
| Coverage | Offers a broad range of healthcare services and long-term care coverage, including drug and alcohol rehab. | Provides coverage for hospital services (Part A), medical services (Part B), and prescription drug coverage (Part D). Some individuals opt for additional private plans to cover gaps in coverage (Medicare Advantage – Part C). |
| Costs and Premiums | Costs and premiums vary based on state and individual circumstances. Some services may require copayments or cost-sharing. | Costs and premiums are standardized based on the specific Medicare plan chosen. Part A is generally premium-free for those who have paid sufficient Medicare taxes during their working years. |
| Enrollment | Enrollment is ongoing, and individuals can apply at any time, subject to eligibility criteria. | Initial enrollment is during the Initial Enrollment Period (IEP), usually around turning 65. General Enrollment Periods (GEP) and Special Enrollment Periods (SEP) are also for specific circumstances. |
| Long-Term Care | Provides extensive long-term care coverage, including nursing home care. | Offers limited coverage for skilled nursing facility care after a hospital stay (Part A) but not for custodial long-term care services. Individuals may need supplemental coverage (Medicaid or private insurance) for long-term care. |
Medicaid Vs Medicare
People must understand Medicaid and Medicare to establish eligibility and get the right healthcare coverage.
How can I find a Medicaid-approved drug and alcohol rehab program?
According to my experience from my addicted cousin, there are plenty of ways where you can find a lead to discover the perfect medicaid-approved drug and alcohol rehab program! He learned about medicaid from one of his classmates but there are other ways too.
Methods for finding Medicaid-approved drug and alcohol rehab programs:
Online
Online searches for Medicaid-approved rehab programs are convenient. Search engines and websites can help you find Medicaid-accepting treatment centers. Many rehab centers list Medicaid on their websites.
By Phone
Ask your state's Medicaid office about Medicaid-approved drug and alcohol rehab programs. They can mention locally approved facilities. Your state's Medicaid agency can be reached through its website or your local health department.
In Person
Ask your Medicaid office or community health center for a list of Medicaid-approved drug and alcohol rehab clinics. These offices can help you navigate the procedure and explain treatment alternatives.
Before entering rehab, check Medicaid addiction treatment coverage with the program. Confirm Medicaid acceptance, coverage, and any out-of-pocket costs or co-pays.
Benefits of Using Medicaid for Drug Rehab
I personally struggled with addiction and went through the process of seeking Medicaid coverage for rehab. I can attest to the benefits of using Medicaid for addiction treatment. Here are some benefits shared-
Financial Assistance
Medicaid assists those who cannot afford drug rehab. Medicaid helps low-income families afford healthcare, including drug and alcohol rehab.
Wide Range of Services
Medicaid covers various drug and alcohol recovery therapies to meet individual needs. Inpatient, outpatient, residential, detoxification, counseling, MAT, and aftercare may be included. Multiple therapy techniques enhance the odds of discovering a good one.
Flexibility
Medicaid's flexibility lets patients choose treatment venues and providers. Beneficiaries can choose inpatient, outpatient, or residential programs depending on their needs and circumstances.
Holistic Care
Medicaid-funded drug rehabs promote holistic treatment. This means that addiction's physical, emotional, psychological, and social causes are treated. Holistic care treats the full individual and improves well-being to increase recovery success and sustainability.
Continuum of Care
Medicaid provides continued support throughout the recovery process. Medicaid-funded programs can provide complete care from detoxification and initial treatment to aftercare and relapse prevention, improving recovery results.
Access to Quality Care
State and federal quality criteria apply to Medicaid-approved drug recovery facilities. Beneficiaries have access to recognized and accredited treatment facilities with qualified healthcare specialists. Medicaid programs provide successful addiction treatment by following these guidelines.
People Also Asked

Can Veterans Qualify for Medicaid?
Yes, Medicaid eligibility depends on income and other variables, not military experience. Thus, veterans may apply.

Veterans who match their state's Medicaid income and eligibility requirements can get Medicaid and VA healthcare.
How Long Does Medicaid Pay for Rehab?
Medicaid will cover the whole cost of nursing home care, including room and board, for as long as needed, even for life.
Does Medicaid Cover Substance Abuse Treatment?
Yes, Medicaid covers addiction therapy. Medicaid covers several behavioral health therapies, including drug rehab.

Outpatient therapy, MAT, detoxification, inpatient or residential treatment, and aftercare may be covered. Check with your state's Medicaid program to determine what substance abuse treatment services are covered.
Does Medicaid Cover Inpatient Rehab?
Yes, Medicaid covers inpatient drug rehab.
Full-time inpatient rehab provides rigorous therapy and support. Inpatient rehab services, including room and board, medical care, counseling, and other essential treatments, may be covered by Medicaid. All Medicaid-covered services vary by state and scenario.
Does Medicaid Cover Rehab After a Hospital Stay?
Yes, Medicaid may cover post-hospital rehab.

After hospitalization, patients can get physical, occupational, and speech therapy with this coverage. Medicaid may cover substance misuse or mental health rehab if the hospital stay was related to those illnesses. As always, state regulations and eligibility determine coverage.
Medicaid assists low-income, elderly, and disabled people with drug and alcohol treatment. It includes screening, outpatient, inpatient, detoxification, counseling, and aftercare. Medicaid supports recovery with comprehensive care and treatment flexibility. While coverage varies by state, it is a vital payer source that allows many Americans to get drug and alcohol addiction treatment.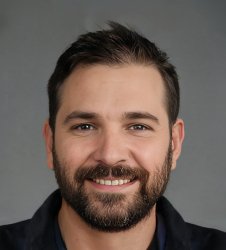 Latest posts by Tony McKenzie
(see all)