An executor can't force a beneficiary into rehab.
The only thing you can do for the beneficiary is you can discuss the addiction and suggest support including rehabilitation. Also, you can try to find out the reason behind not being interested in the treatment of the beneficiary. Executors can ensure the support in the treatment including you can take a step by saying that the beneficiary won't get any inheritance if they won't recover from addiction.
Additionally, for knowing in detail about the method of forcing a beneficiary, ethical considerations, and alternatives of forcing explore the blog thoroughly.
Can an executor force a beneficiary into rehab?
In general, no executor can force a beneficiary into rehab at the first step.
There are several preliminary steps you can follow instead of forcing the beneficiary. However, in terms of exceptional cases, such as – if your beneficiary has substance use disorder (SUD) and has a serious addiction to alcoholic substances, they might refuse to go into rehab willingly.
In that case, forcing might be needed but that too with proper legal action. This kind of approach is termed "Involuntary Rehab Treatment". Certain specific laws might be applied by an executor to force a beneficiary into rehab. Such laws are –
Ricky's law: In Washington state, this law went into effect in 2018 which states that adults and youth who might pose a danger to themselves or others' property, or are disabled from substance abuse and have to go through an involuntary detainment.
Marchman Act: It is a Florida law that provides involuntary detainment temporarily for those who require early emergency for substance abuse treatment.
Substance Use Emergency Commitment: It's the last step for those who refuse all kinds of voluntary rehab and may pose severe risks to themselves in the future.
Massachusetts General Law Chapter 123, Section 35: This law allows an executor to file for a petition in the court to send the beneficiary to rehab.
But all these laws should be applied for the best interest of the beneficiary and only when they are unwilling to go for voluntary rehab and deemed to be a potential danger for themself or others.

And whenever you apply for the petition to send the beneficiary into rehab, you must have to clarify the incompetence of the beneficiary as well as the importance of their being sober for having the estate.
Methods an Executor Can Use to Force a Beneficiary into Rehab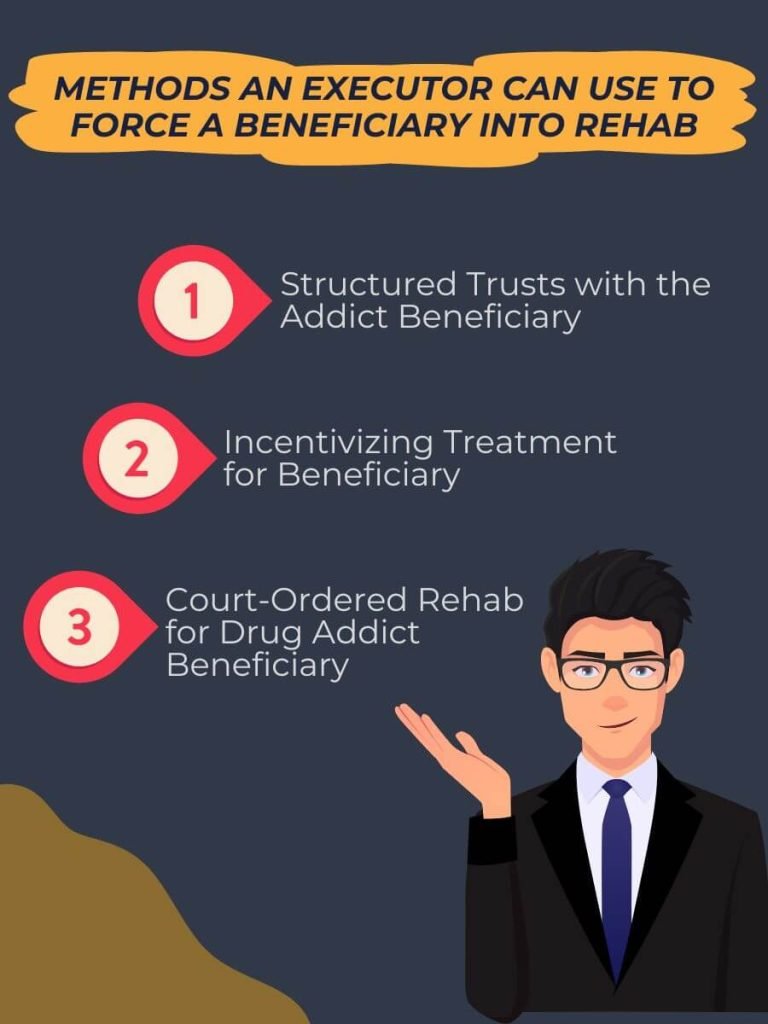 It is not always easy to send a drug addict beneficiary or similar one into rehab.
It is normal to get a refusal from them in this case as they are not sober. But to ensure the distribution of the estate in their hand, they must have to go through a rehabilitation program unless they will not get their inherited property.
So, as an executor, you must have to handle this situation with proper actions. There are some stages through which an executor can force a beneficiary into rehab –
Structured Trusts with the Addict Beneficiary
First of all, the executor should try to win the beneficiary's trust. The beneficiary has to be convinced by your approach. They should understand that everything is going to be done for their good.
In this stage, you may offer some disbursement for the beneficiary's living expenses. That might be helpful to prevent the expense of addiction.
By earning trust this way, they can be motivated to go for a rehab session so that they can come back sober and enjoy their estate early.
Incentivizing Treatment for Beneficiary
Here, you can offer a large disbursement to the beneficiary so that they can continue their rehabilitation.
You have to give support for the treatment and rehabilitation by providing financial help. A handsome amount of the estate might be disbursed in this case which will be a motivation for the beneficiary to get well soon.
But you must be careful about the fact that no expense is used by the beneficiary for their addiction.
This is the last stage where the beneficiary is given a hearing of the court.
This is done due to the direct refusal by the beneficiary to go for rehabilitation. You can petition the court and present medical evidence that the beneficiary is a drug addict beneficiary and needs proper rehabilitation before the estate is transferred to their name.
Then the court will take necessary action to send to rehab and will have an ongoing invigilance to ensure the improvement of the beneficiary.
The Ethical Considerations of Forcing a Beneficiary into Rehab
No one can force a beneficiary into rehab without their consent.
As an executor, you must have to show due respect and the purpose of the process at first.
If the addicted patients are harmful to themselves and others and refuse to go for the rehabilitation program willingly, it is ethical to take action against them and force them to rehab. 
But it has to be done with proper legality and court surveillance.
This kind of force can result in both positive and negative consequences.
In case of positive results, you may find the drug addict improving slowly and after a certain period, they might fully most of the time 70% change themself into a healthy, sober one. But sometimes, you might get negative results also.
Through the ongoing treatment, the beneficiary might lose their patience, leave the program and restart having drugs. They sometimes become more violent and even try to commit suicide.
In 2016, a study published in the International Journal of Drug Policy stated that there is little evidence that involuntary and mandatory drug treatment help addicts stop taking drugs.
There are hardly any alternatives to resolve this case. Strong family bonding and counseling might be proven helpful. You have to encourage the beneficiary constantly and give them mental support.
Other rehab programs should be searched if no one works. Be patient with the beneficiary and help them to get better by taking time.
Alternatives to forcing a beneficiary into rehab
In general, no beneficiary with SUD will be agreed to go to rehab.
They will surely refuse to attend the program on their own. But to distribute their estates to them, they need to be a sober individual. So, if they do not want to go to the rehab program willingly, you may follow these steps instead of forcing them –
Build a faithful relationship and show them that you care for them as their executor of the estate.
Make a restriction for them to use the estate for their addiction purpose.
Go for treatment that can be done at home.
Prepare some counseling sessions to make up their mind against the drug.
Encourage other works they love and distract them from addiction.
Provide financial help as much as needed for the treatment and their living expenses.
Ensure proper invigilance so that they can't indulge themself again with the addiction habit.
You can't give access to any estate to an addict. But there are a lot of hopes and ways available to give them a normal life and hand in their wills. There are many options available for rehabilitation including legal options too.
So, try to have an in-depth conversation with the beneficiary as well as take legal steps if the situation is extreme.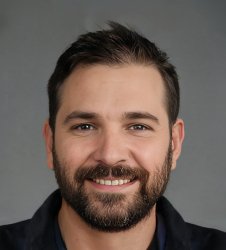 Latest posts by Tony McKenzie
(see all)