You can search for the right anger rehab center with the help of Google, consulting with an expert and doctor. As well as by visiting the rehab center in propria persona.
While selecting this rehab center, you should look over individuals, such as treatment proposals, previous success rate, approach, duration, cost, accessibility, and post-treatment facilities.

The key to looking into these issues is that you may benefit from the rehab center to control your anger and whether you can easily cope with your stress, anxiety, bad habits, and others.
Assessing Your Needs
First, assess whether your chosen rehab center has what it takes to address your anger issues.
Choose a rehab center that can teach you how to deal with triggers and the consequences of expressing anger. That can help you determine whether your anger patterns make you break things or self-harm in anger or hurt someone you love, such as in physical abuse.
Know the sessions and understand whether you can self-motivate and fix your social and family relationships. Also, if you have any health issues check and choose if the rehab will deal with that problem. How is the environment, whether your family or friends can help you there, or the distance from your residence to rehab? Try to find these necessities.
The key is to choose the rehab that suits your needs. My next-door neighbor was struggling with anger issues a few months back. He had to go through a huge hassle as he didn't put much effort into considering these factors. As a result, he had to restart his anger management journey with another rehab that suited him this time.

Apart from these, you have to keep in mind the cost. Generally, here ranges from less than $10,000 to more than $75,000 depending on your treatment, and this value can fluctuate.
Researching Anger Rehab Centers
All you can do to find a good rehab center is to search for yourself, get authentic reviews, and ask for help from specialists. You can know the ins and outs of rehab online very well for your anger rehabilitation. Below are the details of researching rehab for anger:
If you want to search online then-
Search for an anger rehab center near you. You will find a list of names, along with their location on Google Maps.
Visit all websites. See what they offer and what they don't, and see if there are any ratings or reviews to see if they can fulfill your needs.
If you have any additional queries you can call or email them on their hotline.
Note and verify all the details with the help of an experienced doctor.
If you want to search offline-
Consult with someone coming from rehab or someone who is an expert on the subject.
List the name and type of rehab.
Go to the rehab in person, talk to the management, know about the treatments and sessions, and evaluate the environment.
Note and compare the pros and cons of all rehab.
What to Consider When Looking for an Anger Rehab Center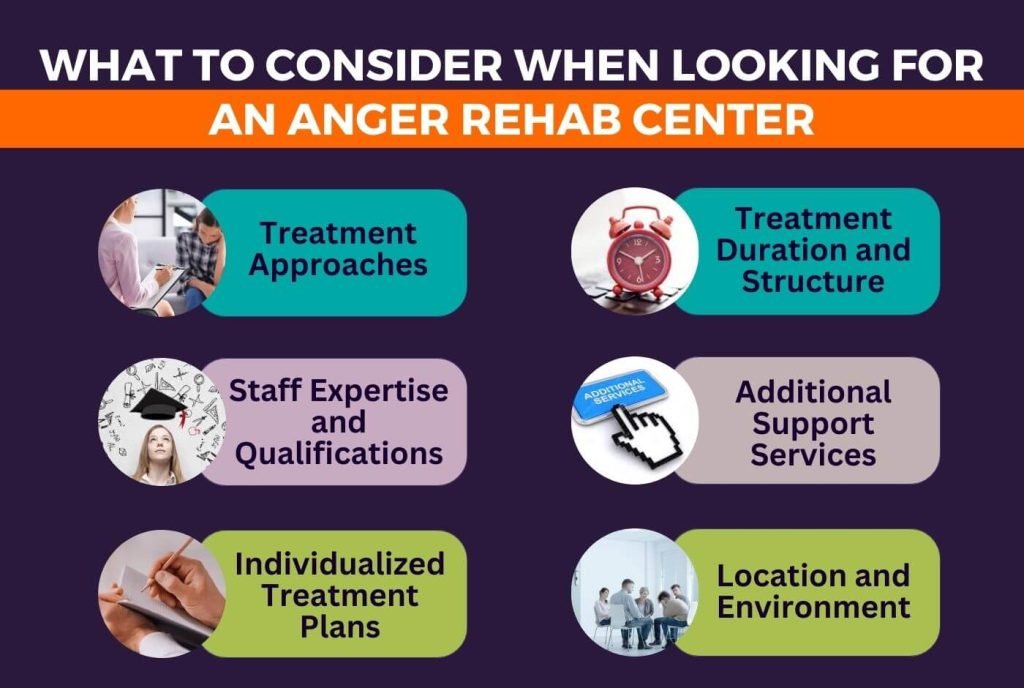 It's a concerning issue of what kind of treatment and therapy anger rehab gives. It also needs to ensure that the staff, what additional support is going to provide, how the environment is, and many more. Below is the detailed description:
Treatment Approaches
Know about the treatment approach of individual centers. The treatment is similar, but the procedure may vary from center to center. These treatments may include Cognitive Behavioral Therapy (CBT), which deals with and changes your behavioral issues through conversation.

Dialectical Behavior Therapy (DBT) is similar to CBT but differs in that it focuses on positive behavioral growth as well as negative ones.
Family therapy is counseled by family members and is usually used by verifying psychologists and therapists. Psychodynamic therapy helps increase self-esteem.
Breathwork is yoga but is considered therapy that can help relax while you are angry. There are also Mindfulness and Meditation Therapy, Motivational Interviewing, Reality Therapy, Relapse Prevention Therapy, Person-Centered Therapy, Acceptance and Commitment Therapy, and Psychotherapy Program.

I've known and seen so far that meditation, as well as mindful therapies, work best in anger management.
All of the above are used in anger rehab, but CBT is more effective, according to a report by NCBI. Apart from these, rehab centers also approach a few pieces of training like 7/11 training and 3R (Retreat, Rethink, Respond).
Staff Expertise and Qualifications
One of the essential factors to consider is the staff, including therapists, pathologists, assistants, technicians, and transporters' expertise and qualification. Know if they are qualified and experienced enough in treating anger problems.
Choose a center where the staff is experienced in anger management therapy at least they have RAC certification and have good reviews from former clients. If you go to rehab knowing these things well, you will understand that you are getting mental satisfaction and anger issues are coming under control.
Individualized Treatment Plans
Everyone faces different types of anger issues. Suppose you are an introvert, but if you have too many conversational sessions, you don't enjoy them but get distracted. On the other hand, reading books or solving Rubik's cube will be more effective for you.

For instance, my neighbor included that music had helped him diversely in his anger management period. Similarly, different people have different treatment plans. Some of the programs include partial, outpatient, and inpatient programs. 
Again, depending on the type of anger and the overall situation, it is divided into several groups and treated, such as detox, residential, and PHP-OP. Anger management facilities set goals based on individual benefits. So after looking at these things, you should select the center.

Again the program is divided into 3 parts depending on the time – 30 days, 60 days, 90 days and long-term living program.
Treatment Duration and Structure
Depending on the severity of the anger, the anger rehab center fixes the duration and type. That includes inpatient anger management programs, where treatment is provided with 24-hour rehab supervision. It can last from a week to a few months.

Outpatient anger management, where the patient takes treatment from home, and goes to the center during the session.
There are a few sessions a week that last for several months including 12 steps. It also includes Comprehensive bio-psycho-social assessment, Individualized treatment planning, Group therapy, Family sessions, Vocational counseling, and others.

Day programs are similar to outpatient, but in this case, only 8 hours are required to stay at the center. And it is comparatively less costly.
Additional Support Services
Additional support for rehab may include discounts during treatment or post-treatment benefits such as family therapy. An aftercare program where you can have an extra session if you want or need it.

Again, many types of complications can be seen in sudden changes in behavior. Like suddenly becoming very quiet, any changes in mental health. Choose a rehab that offers treatment or opportunity for these things.
Location and Environment
Rehab environment and location impact anger management as its anger issues rehab. For example, a peaceful setting can ease your mind and help you reduce anger.

Again, the natural environment can improve your thoughts, such as a 5-minute walk can calm your mind. Now the weather should not be too rough but temperate. It should be as close to your home as possible. Check the safety of this place.
Financial Considerations
Rehab offers to deal with your anger and get well, again on a budget, with insurance coverage, or with convenient payment options. The details are discussed below-
Find out if your rehab center accepts health insurance. But before that, you need to check that if your health insurance avails through the job, then is it eligible for any kind of therapy! Again, if you are out of the list, the insurance provider will cover some aspects of your anger treatment. That can help you avoid financial risk during treatment.
Even if insurance covers most of your treatment, there may be other out-of-pocket expenses, such as over-the-counter medication, aftercare, therapist eligibility charges, or extra anger management classes. In my neighbor's case, I've known that even if you choose to use insurance, you must co-pay $50 or more.
Know about payment options if the cost of the anger rehab exceeds your immediate finances. Few facilities may offer flexible payment arrangements that allow you to pay in installments over a specific duration.
Some anger rehab centers offer financial assistance programs such as supervising, and counseling for individuals who have financial needs. Look for these options and find out if you qualify for any of them.
Contacting and Visiting Potential Centers
Of course, not all anger rehab centers are going to be suitable for you, so list out the centers that can fulfill all your needs and provide the best service. You can contact them on their website or by visiting them yourself.

You can also contact them directly to know what you need to know. And you can get additional information, such as how many days of post-therapy treatment they provide, and what benefits they will provide if you take inpatient or outpatient treatment. 
To get your own experience about the place, you can go and visit it to see if it is really suitable for you and now you can easily get an idea of the place virtually through video call or 3D view.
Making an Informed Decision
Your overall treatment depends on the situation and decision regarding the center. List the pieces of information that you have got like cost, location, duration, service, session, and environment, and find out the pros and cons of everything suitable for you.

Decide what you can fit into any space or your budget. Take that decision and select a rehab center to get rid of your anger.


So far you have gathered the information which includes the rehab treatment, therapy, duration, cost, location, expenses, facilities, and much more. By evaluating these things, you can make a good decision in selecting rehab for your anger issue.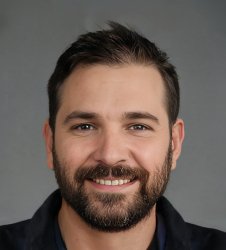 Latest posts by Tony McKenzie
(see all)