Yes, a primary care doctor prescribes alcohol rehab.
A few days back one of my friends named Emma shared her addiction problem. I was wondering about the fact for a long time but she didn't open up till the last day. She was tense because of her addiction and wanted to get rid of it but with the help of a specialist.
Then I suggested that she visit her primary care doctor as the doctor is the only person who can guide her properly as well the doctor may know the medical condition of Emma. As I know she had some issues such as asthma.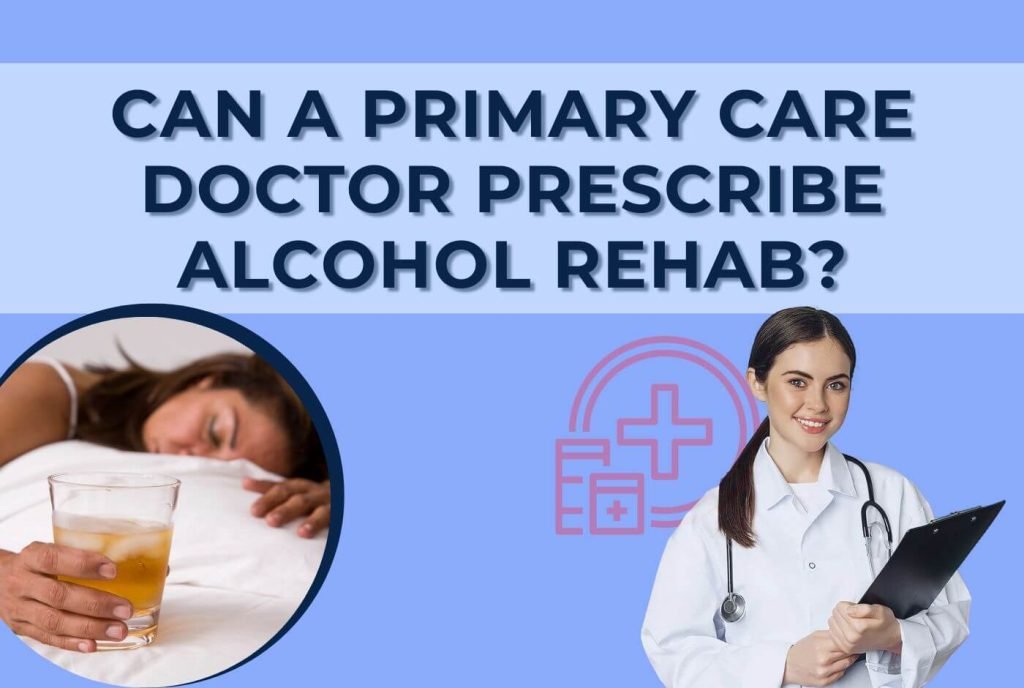 Let's go through our blog to know the ins and outs of primary care doctors for rehabilitation including the pros, limitations, roles, and so on.
What are the benefits of seeing a primary care doctor for alcohol rehab?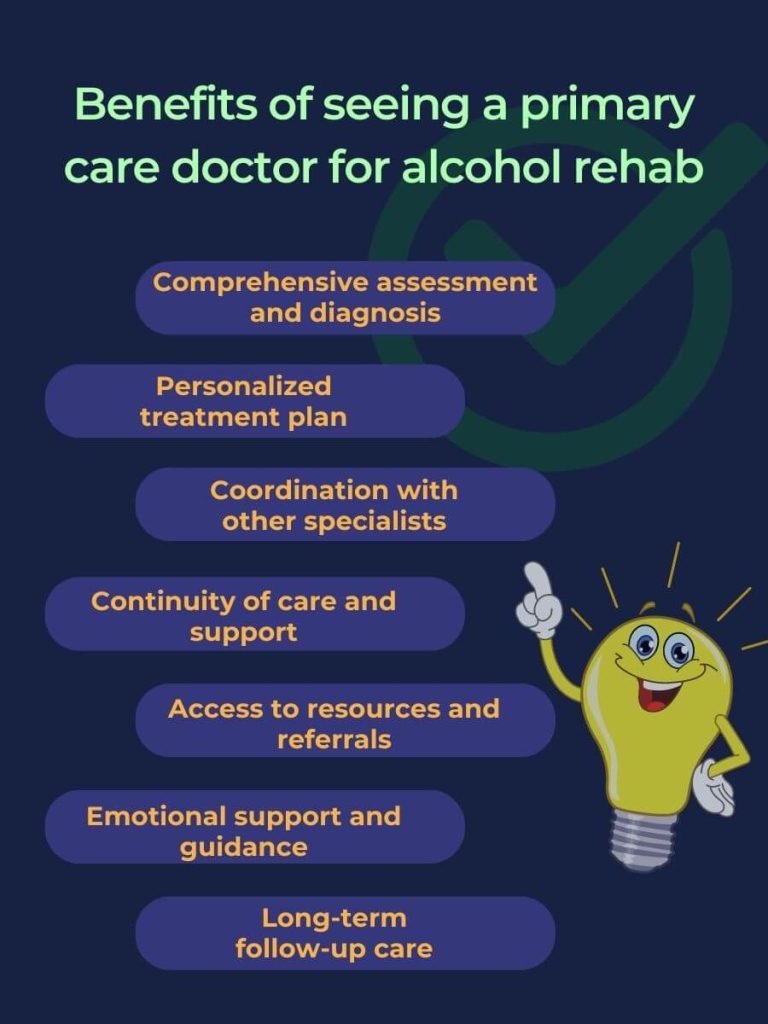 The primary care doctor is the person who knows your medical history as well. They are trustworthy to share your condition. There are several benefits. That includes-
Comprehensive assessment and diagnosis
Primary care doctors can assess you for alcohol addiction issues as well as health issues. That may include any blood test, lab test as well a deep conversation to know your current state.
Based on these things they can pinpoint your Alcohol Use Disorders (AUD) and suggest the best treatment program as well as rehab with these facilities.
Personalized treatment plan
If you have any health issues including asthma, chronic liver disease, diabetes, cancer, pneumonia, and so on. The primary care doctor prescribes alcohol rehab according to your need based on your health and addiction issues. 
My close friend Mark had been a heavy drinker for years, and it was taking a toll on his health. He reached out to me for help, and I suggested him to take a personalized treatment plan. Mark's journey to recovery with the guidance of his primary care doctor was eye-opening.
What I am trying to say is that personalize treatment may vary from person to person. But it is easier to deal with when the plan is according to your needs. As the doctor knows your history, the treatment plan may be more than enough.
Coordination with other specialists
In most cases, primary care doctors are familiar with you. There is a high chance that they didn't know the whole procedure of what needs to be done. Also, your case or requirements can be different.
So, they can coordinate with other specialists regarding your issue. Also, there is a chance that you can't explain the medical facts to the other specialist but the primary care doctor can do that. That makes your path to rehab easy.
Continuity of care and support
You can have care and support from the primary care doctor. As you are familiar with them and they are the person who can know your health conditions and guide you on what to do and what not. They can even help you to find the best rehab for you.
In some rehab, doctor referrals are accepted positively.
Additionally, while you are in rehab they can support you there too. You can ask them for help if you face any complications in rehab as well they can guide you here.
Access to resources and referrals
Primary care doctors have a wide range of access including medication, counseling, individual or group therapies, support groups, and so on. So, your doctor can suggest to you what is best for you. As well as support you during the sessions too while in rehab.
Emotional support and guidance
As they are known to you for a long time. So, it's usual that they know the ins and outs of you, even about your family and friends. They can support you emotionally as the decision of going to rehab is such a huge thing to do.
Also, they guide you from going to rehab to your aftercare programs for helping you to lead a sober life even after rehabilitation.
Seeing my friend struggle with addiction was incredibly painful. It was heart-wrenching to watch him battle this demon. When he finally decided to seek help, it was a mix of relief and anxiety.
I felt relieved that he was taking the first step towards recovery, but anxious about the road ahead. Emotional support is the only thing that gave him strength from his heart!
Long-term follow-up care
A primary care doctor not only sends someone to alcohol rehab but also helps them during and after rehab. They care and support you even after completing your rehabilitation. They instruct you what to do and not to do to avoid relapse addiction.
What are the limitations of seeing a primary care doctor for alcohol rehab?
Limited treatment plans, fewer options, fewer alternatives, and many other rehab-related options are the limitations of seeing a primary care doctor for alcohol rehab.
From removing all the stimuli of addiction from you to helping you to lead a stable life all happens in alcohol rehab. But when you go for a primary care doctor there are some missing remains. That includes-
Limited expertise in addiction medicine
Primary doctors may not have enough knowledge about addiction medicine including acamprosate, disulfiram, naltrexone, and so on.
Even sometimes the doses may vary according to the severity of your addiction. And the primary care doctor may fail to prescribe it.
Can diagnose but not provide long-term therapy
If the severity of your addiction is high in that case primary care doctors may fail to give proper guidelines. They can diagnose your underlying issue and even give you the primary treatment. But for long-term therapy, it can be difficult for them to provide needed elements.
Limited medication options
As they are not professional therapists or counselors regarding rehab or addiction. So, it's fair enough that they don't know the overall procedure. And can provide you with a limited range of medication support.
Can only make doctor referrals to rehab facilities
It means the primary care doctors only can refer you to rehab or treatment options. But as far as I have seen, they can't directly give you admission to the rehab center. Or ensure the amenities. It's only done by the therapist or specialist of the rehab center. 
May not be familiar with available rehab facilities
In primary care, doctors aren't directly connected with the rehab. So, it's usual that they may not know the available facilities inside the rehab. Inside rehab, things are restricted enough and available for the specialist who has training.
Stigma may impact doctor-patient relationship
Be careful of the possible effects of stigma if you're thinking about getting treatment for AUD from your primary care physician. Before revealing your AUD, you might wish to discuss your worries with your doctor.
Ask your doctor if they have expertise in treating patients with AUD and if they are sensitive to the stigma attached to the condition.
Primary care alone may not provide comprehensive care
Primary care is not enough for rehabilitation and addiction. There is not only care but also involves medication, therapies, and sessions including individual, group, and so on.
My friend Mark's first thought was that he will get comprehensive care but at some point I let him know that it is impossible to get in primary care.
That's impossible to get in primary care.
Role of a Primary Care Physician in Alcohol Rehab
A report of KFF claims that there are 5,21,134 active primary care physicians at present in the USA.
They are bound to serve the localities. Additionally, they have the right to serve an addict initially. As well as guide them to a limited stage. That also includes-
Screening for alcohol misuse
They need to look around their surroundings. Monitoring the society and local area where alcohol is misused.
Diagnosing alcohol use disorder
The primary care doctor can pinpoint your underlying issue. And can provide the initial state of the addict.
Brief intervention
They can brief you on the overall situation and consequences. Additionally, guide you on which is the right path to follow to get rid of addiction.
Referral to addiction specialist
They can also refer you to an addiction specialist. It can even help you to search for the best rehab for you.
Prescribing medications
Primary care doctors can help you initially, also it will be much more helpful if the severity of your addiction is less. They can suggest the proper medication that you need.
Don't think twice about conducting with your familiar primary care doctor about your addiction. They can suggest you initially even if they can guide you while and after rehabilitation. They may help you with proper medication and also refer you to the specialist which is required for your current situation.
Don't think more, go and talk to your primary care doctor today.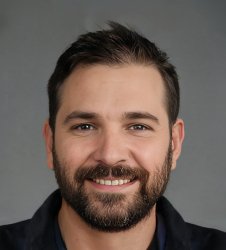 Latest posts by Tony McKenzie
(see all)