If someone close to you is in rehab, he needs to have a conversation with supportive, motivational, strong words in such a way that he feels relief from your words.
The major reason for going to rehab is to get rid of any bad addiction. Just as good treatment to get well is needed. Similarly, it also needs the support of close ones to smooth this path to recovery.

The conversation pattern is different depending on how you talk to someone close to you, what to say or not to say, what kind of relationship you have with them. These are given below with details and examples.
What to say to Family & friends
Your conversations with family, friends, and relatives are not the same. Nor will this case be the same. You don't communicate with family exactly the way you communicate with friends. Similarly, your family member or friend who is in rehab will change the way you talk depending on your relationship.

Some of the examples are-
How do I express my love and support to my life partner who is going to rehab?
As a life partner, you know the ins and outs of your partner. From the beginning to present status. If your spouse realizes the mistake and wants to go to rehab, you should support them first.
What you may or may not tell them is-
Don't Say:"If you go to rehab, I will be a disgrace to society." – Your partner will be disappointed. And on the contrary, they became more and more addicted.
Say this:"I am so glad you are taking this step." –  Your partner will be more motivated after hearing this. And move forward with enthusiasm.
How can I express my love and support to my child who is entering rehab?
The relationship between you and your child is unlike any other. Treat them like they feel safe to share everything with you. No fear in their mind will be appreciative. They want to go to rehab to fix it if they unknowingly get into addiction.

Here's what you can do-
Don't Say: "Nothing will happen to you." – One may become demotivated, and depression may even go to the point that you don't trust them either.
Say this: "I'm here with you." – It gave them courage. It also gives the inspiration back to normal life soon.
What to say to my best friend who is going to rehab?
It's likely that you and your friend have been through a lot together as they've dealt with substance abuse. It must feel like a huge relief to see them taking this step towards recovery!

If you're wondering how exactly you can support your friend as they begin their drug rehab journey, there are tons of things you can say to encourage them. Here are some ideas that might be helpful:
Don't Say: "I can understand." – Unless you have gone through addiction treatment, you may not have any real indication of what is likely to happen.
Say this: "This has to be a difficult step for you." – It's not about being afraid of them but encouraging them in tough situations.
What can I say to my nephew/niece who is going to rehab?
Your relationship with your nephew/niece is a different type of emotion. If they want to go to rehab because of bad habits or bad anger, you must help them. You can't help them with therapy but mental satisfaction by word.
What you can do for them are-
Don't Say:"I heard it takes a long time to heal." – After hearing this, the person will be more afraid and hesitate whether to go to rehab or not.
Say this:"You are strong." – This one line is very effective to motivate one, to encourage one's progress.
What should I say to my sister-in-law/brother-in-law who is starting rehab?
Motivate them as much as you can. Instead of reminding them of their mistakes, talk about what good things await them after rehab.

Don't Say: "You have done this bad thing in the past." – Remembering the past can be counterproductive and hinder the treatment. They may also have a mental breakdown.
Say this: "You are doing well." – Through this, they realize that what they are doing now is good and right. And tries harder for recovery.
What to say to my next-door neighbor who is going to rehab?
Talk to them nicely. Know the reason for going to rehab and explain to them well that they will not be harmed and the improvement will also be good in rehab.
Also, you can or can't do-
Don't Say:"It won't happen to you." – It kind of discourages them. And makes rehab boring.
Say this:"It gives them hope for better things ahead." – And focus on doing them well in rehab treatment and sessions.
What to Say to Others
It is your responsibility to keep the surroundings beautiful, as well as to keep the people around you healthy. No one is born addicted because of the environment, situation, or association.

Rehab is a place that helps people to change these habits and back to regular life. Your partner or coworker may also need to go to rehab. So it doesn't mean that you will avoid them.

Here's how you can have a conversation with them:
What to say to my coworker who is going to rehab?
You can talk to them with support, encouragement, and motivation. It may include:
Support- Show your support by saying; "I'm here with you", "It's going to be hard, but I'm here."
Encourage-"You're doing right", "Don't worry keep your focus up."
Motivation-"You can do it, I know", "Few steps left, you must get success."
Help- "Call me, if you need something", "I'll be there after your session."
Appreciation- "You're improving fast, keep going."
How can I show empathy and encouragement to my Business Partner who is going to rehab?
You can do this easily through a good and healthy conversation. For example-
Talk to them more and learn about their type of addiction and selected rehab.
Discuss with them how you are feeling.
You appreciate your business partner talking openly with you.
Be supportive and encouraging while talking to him.
Add a positive description of rehab.
Give an example of someone you know getting better by going to rehab.
What are some appropriate things to say to my clients who are entering rehab?
‌Is there any way I can support you during rehab?
I know you do very well in rehab treatments and sessions.
Call me if you need anything.
We will continue this work again after your recovery.
But the celebration is needed for wellness.
Focus on your recovery first.
Is rehab going to be difficult for you?
Key Guidelines for Interacting with Someone Going Through the Recovery Process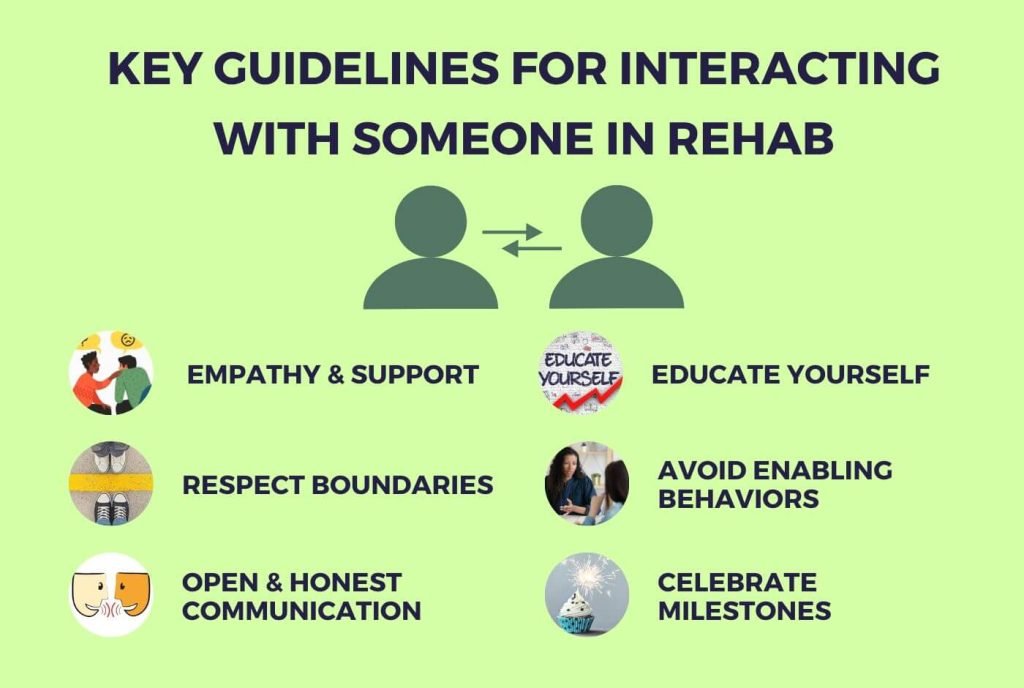 If someone close to you or someone you know goes to rehab to get rid of a bad habit, they will not recover only with therapy treatment. Interaction is also necessary.

Below are some guidelines for how you can interact with someone in recovery:
Empathy and Support: Just as sympathy lights up someone's mind, support strengthens their morale. You can say to someone, "I am so proud of you for making this decision, please know that I am here."

Here the first part shows sympathy and the second part shows your support. Those who are going or are in rehab get strong morale and motivation to work.
Respect Boundaries: Self-help is heavily emphasized while in rehab. It's more about self-improvement. There are some limitations in talking to outsiders during this time. Respect those limitations. Try attending family therapy sessions.
Open and Honest Communication: Stop your overreaction. Like "I know how you feel in rehab now." You can't know how it feels until you've been there. If you tell the person in front, they will understand easily and will not want to continue the conversation.

Instead, talk to them positively and honestly, such as "You feel so energetic after your breathwork session." This will encourage and grow interest in the person on the treatment.
Educate Yourself: You can learn about different rehabs and their processes and treatments online or through books. It will be easier to interact with the person.
Avoid Enabling Behaviors: By indulging the addict in their bad behavior, hoping for a source of addiction, and tolerating the addict's abuse like hitting, and slanging. If you do this, the addict will not recover, but the situation will worsen. There is a saying. "Heaven dwells with the honest, destruction with the dishonest." The quote is still equally applicable.
Celebrate Milestones: Whether your partner, classmate, family, friend, or coworker is taking rehab treatment, set a milestone to encourage them and make things easier.

For example, if a session of 2 weeks of treatment is completed, many of you will throw a party for the person who is in rehab. The person who is in rehab will understand their importance to you. Moreover, in the hope of such a celebration, the treatment will take well.
People Also Asked
What to Say to Someone in Rehab and recovery?
"I'm proud of you," "Here for you," "I believe in you," "How can I help you," "You will surely recover soon," "You are overcoming very well." 

You can motivate, support and cheer up someone who is going to or staying in rehab with such encouraging words.
What to say to someone in alcohol rehab?
You can start with "Do not drink alcohol as it will harm you." Those who go to alcohol rehab experience physical and psychological changes during treatment. 

They should motivate and sympathize by saying "I'm proud of you for taking this step," and "I'm sorry for what you've been through." Of course, they should be careful not to reconnect with the alcohol source. And you can ensure those things.
What to say to someone in drug rehab?
"You will recover soon," "Don't worry, everything is fine," "You are improvising very well," "You are completing the session very well." 

You can say that these things did not go away. As if the person in rehab can easily understand how concerned you are for them. And want to stay in rehab for treatment.

A report by the Substance Abuse and Mental Health Services Administration shows that 90% of drug addicts who need rehab don't get it because of a lack of motivation from all around them. So motivate the person in rehab to complete treatment from there.
Rehab is one of the places to get rid of addiction, bad anger, and any disorder. But many around us don't need to go to rehab or are afraid to go. You cannot treat them but you can motivate, support, and encourage them by talking to them before and after going to rehab.

But you have to remember that the way you talk to common people is a little different here. The dos and don'ts are discussed above to make your job easier.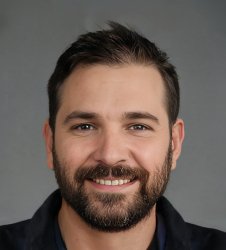 Latest posts by Tony McKenzie
(see all)