According to National Institute on Drug Abuse, 5.8% of Americans ages 12 and older (16.3 million people) were diagnosed with marijuana addiction in 2021.
If you recognize the signs, then it's best to seek rehab for weed addiction as soon as possible. You can get rid of the negative effects of weed addiction. Seek help from professionals and get into the journey of a better lifestyle.
Types of Marijuana Rehab Programs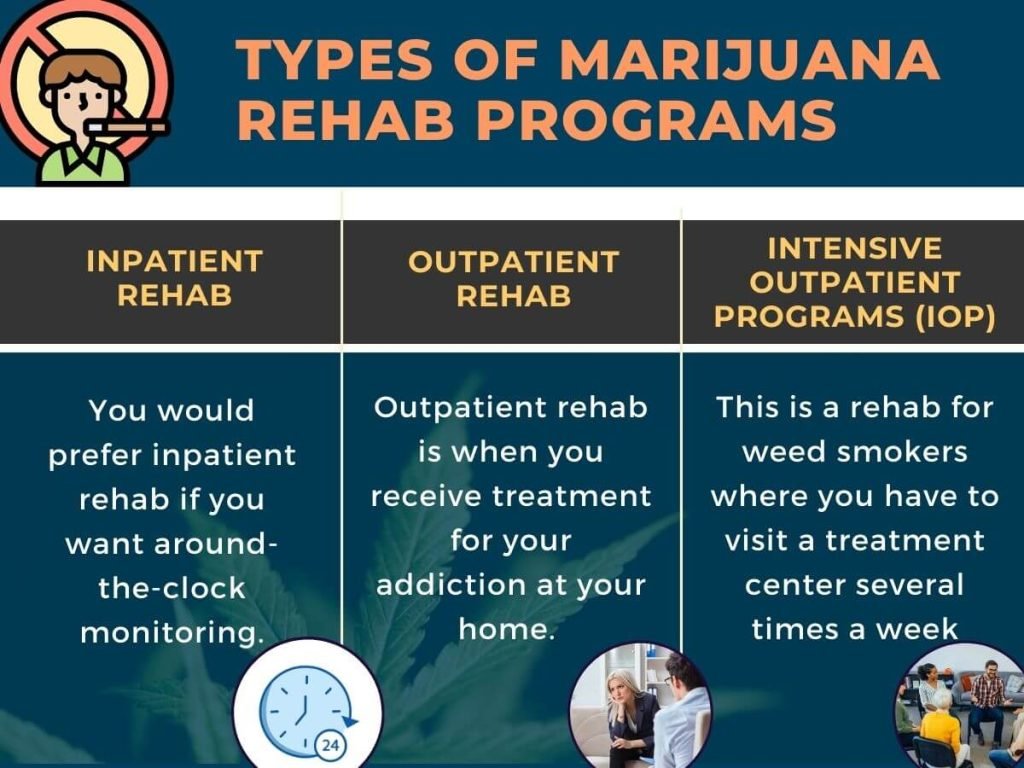 A. Inpatient Rehab
You would prefer inpatient rehab if you want around-the-clock monitoring. When you are going through inpatient rehab to get over your weed addiction, constant supervision can really help.
The inpatient rehab for weed smokers can do wonders since it helps remove distractions. You are focused on reaching the goals set at your rehabilitation.
Inpatient rehab can last between 30 and 90 days. It depends on your progress rate and how you handle the rehab.
B. Outpatient Rehab
Outpatient rehab is when you receive treatment for your addiction at your home. Your rehab for weed addiction is treated by a program site or a professional.
The rehab programs can take place anywhere – whether it's a community clinic, a private clinic, a health clinic, a counselor's office or somewhere else.
The outpatient rehab program is for patients who don't have to stay at the facility for a long time for their treatment.
Outpatient rehab programs can vary in duration. It can take from a few hours per week to several hours per day. A standard outpatient rehab program can require 1-2 sessions per week for 1-2 hours at a time.
C. Intensive Outpatient Programs (IOP)
IOP is a type of outpatient programs for weed rehab. This is a rehab for weed smokers where you have to visit a treatment center several times a week (depends on the rehab program).
You don't have to stay overnight at the facility during IOP treatment. IOPs often require you to attend up to 20 hours of treatment per week. The treatment can last between 2 months to 1 year.
What to Expect In Marijuana Rehab Programs?
Medical Detoxification
When you get into rehab for marijuana, the resistance you would face is the detoxification process. Medical detoxification is your first step towards marijuana rehab. This is the initial phase where your body is supervised in a controlled environment.
You have medical professionals that overlook your vitals as you go through the detoxification. Your body would face withdrawal symptoms in this phase (such as – headaches, chills, tremors, excessive sweating, nausea, mood swings, lack of sleep, etc.).
The medical professionals often use specific medications during detoxification to help your body adjust.
Behavioral Therapy
1. Cognitive-Behavioral Therapy (CBT)
CBT is the most commonly offered talking treatment on the NHS. With CBT, you learn to identify negative thought patterns and change inaccurate beliefs.
CBT is a therapeutic approach to rehab for weed smokers. During CBT, the professional would focus on finding your behaviors associated with marijuana use. You can take part in either private or group sessions since it would help you recognize certain triggers.
You can learn to develop your own coping skills. CBT is meant to help you in fighting the negative thought patterns during withdrawals to reduce your substance use.
CBT is highly structured, so you and your therapist can discuss ways to improve the condition and set attainable goals. CBT can be conducted in both 1-to-1 sessions or in groups where you discuss your problems with people who have a similar condition.
Individual CBT therapy sessions can take from 6 to 20 weeks, and each session can take 30-60 minutes. It can cost from $100 to $200 for each session.
Please try speaking with a professional therapist about CBT to see if it might prove helpful to you.
2. Dialectical Behavior Therapy (DBT)
DBT is necessary to help you overcome underlying personal problems. DBT is a combination of individual therapy, skills training, and group therapy.
You get to learn different mindfulness techniques and strategies to make better relationships. You can reduce your reliance on marijuana as a coping mechanism once your underlying emotional vulnerabilities are addressed properly.
Individual DBT therapy fees can range from $120-$250 for a 45-50 minute therapy session. You can require 15-20 DBT sessions for your recovery.
Please try speaking with a professional therapist about DBT to see if it might prove helpful to you.
3. Contingency Management
Contingency Management is a behavioral therapy approach that uses positive reinforcement to motivate and reinforce your abstinence from marijuana.
The medical professionals use rewards or incentives as motivation factors. You receive rewards for maintaining sobriety and adhering to treatment goals. It motivates you and helps in increasing engagement.
4. Motivational Enhancement Therapy
MET is about focusing on increasing your internal motivation to the rehab. It tests your commitment to marijuana abstinence.
Medical professionals use empathetic and non-confrontational counseling techniques in MET. It encourages you to explore your feelings about marijuana use. It helps you look into a future without marijuana.
According to Northwestern Mutual, costs for MET therapy can range from around $75 to $200 per hour.
Please try speaking with a therapist about MET to see if it might prove helpful to you.
How long is rehab for weed?
A basic rehab for weed addiction program can last from 30 days to 90 days. It is difficult to estimate how long your rehab program will last.
The treatment duration can vary depending on some factors:
Time – how long have you been using for can affect how much time it would take for you to recover.
Quantity – the amount of substance you take can affect your recovery time. Your recovery period would vary based on how much substance is in your system.
Program type – the type of rehab program you choose can determine how long it would take for your rehab. For example – inpatient rehab programs can take up to 3 months, but outpatient programs can last for up to a year.
Other issues – your rehab program would take much longer if you have other underlying mental health issues (i.e., anxiety, eating disorder, personality disorder, anger management, etc.).
Average Duration for Inpatient, Outpatient, and IOP Programs
Inpatient rehab programs can take from 30 to 90 days. Outpatient and IOP rehab programs can last from a couple of months to a year.
The Cost of Marijuana Rehab Programs
A. Types of Expenses Involved In Drug Treatment Programs
As you would expect, marijuana rehab programs are not cheap. There are many aspects related to the overall program that can make it quite costly.
At first, there are the therapy costs. You take part in different therapy sessions throughout your rehab – both individual and group sessions. You have to bear the cost of all those sessions. The hospitalization costs can vary since not all weed smokers would need to be hospitalized. Sometimes, the effect of long-term substance use can be too detrimental for the user.

So they have to be in the hospital for a check-up before starting their rehab program.
Medication is another big part of the cost of rehab programs. Medical professionals can prescribe certain medicines for you to take throughout the process. Along with medications, there are also aftercare costs to consider. There are follow-up checkups and certain therapy sessions that you need to keep up with even after the rehab is done.
All of this combined can make your marijuana rehab program a necessary but costly endeavor.
Here is a breakdown of your marijuana rehab expenses:
| | |
| --- | --- |
| Cost of therapy | CBT therapy sessions can cost from $100 to $200 for each session, DBT therapy costs can range from $120-$250, and costs for MET therapy can range from $75 to $200 per hour |
| Hospitalization cost | Average cost of hospitalization in the US is around $2,800 |
| Medication cost | Around $4,500 |
| Aftercare | You might have to keep up with some therapy sessions to prevent relapse (it can be group therapy, CBT, MET, etc.) |
| Other expenses | Other expenses can include transportation, medical checkups, Detox (can cost around $1,500), etc. |
Marijuana Rehab Expenses
B. Paying For Marijuana Rehab
Paying for marijuana rehab can be difficult if you lack proper planning. Your bank won't break if you have some contingency plans in place.
For example – insurance coverage such as private health insurance can help take some heat off of you. Contact your insurance provider to find out which services they offer.
Private payment is paying for your rehab from your own pockets. If you can afford it, then go ahead! There are state-funded programs in many states across the US where the state covers the rehab costs for people who cannot afford it.
The availability and eligibility of state-funded programs vary depending on the location. So, find the programs specific to your location if you are not so well off.

Now you know what to expect when you decide to go through your rehab for weed addiction. No matter at which stage of addiction you are at, it would be difficult to get better without professional help. So, find the best rehab programs in your area and start with your journey. It's a long one, but you can come out the other side as a different and better person.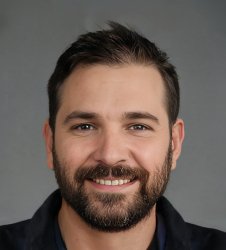 Latest posts by Tony McKenzie
(see all)