Alcohol rehab programs make ways clear to quit addiction.
Rehab points to your trigger for addiction and provides you with all the essential things that help you get rid of addiction. SAMHSA reported that about 1.4 million people received treatment for SUD in recent years. That represents about 19% of the people who needed treatment.
Rehab is the only place that may offer multiple treatment options and even extend the procedure for your full recovery. Even they arrange aftercare programs too.
The primary purpose of this content is to offer a detailed insight into the alcohol rehab process, from the initial assessment to aftercare. We'll provide a step-by-step guide to help individuals understand what to expect when seeking treatment for alcohol addiction. Know the ins and outs of rehab here including the phases, planning, and so on.
What Happens in the Alcohol Rehab Program?
From removing all the stimuli of addiction from you to helping you to lead a stable life all happens in alcohol rehab.
When you first go for a rehab process for alcohol, they may suggest you consult with their expert first, then they can pinpoint your current state. After that they may send you to detox, or 12-step programs, and so on.
And the process continues with several different treatments and sessions. The details are given below-
Detoxification
Detoxification is the first step of going to rehab for alcohol, and it is the alcohol removal process from your body with managing the symptoms of withdrawal that can occur. Detoxification is available for both inpatient and outpatient programs.
Individual therapy
Individual therapy is a one-to-one counseling program with addiction treatment specialized therapists and it is an effective way to address the underlying issues of alcohol addiction.
We've talked to Jennifer, a recent rehab successor, shared her thoughts. She said that, during this individual therapy, she had the opportunity to share her personal history of alcohol, her thoughts, and personal feelings about alcohol with the therapist in the alcohol and drugs rehab centers.
Group therapy
Unlike individual therapy, group therapy is a form of therapy in which a group of addicted people including you can discuss their experience of alcohol addiction with therapists and each other regularly. It is an effective way of recovery to learn and get support from other patients who are struggling with the same challenges and stay motivated.
12-Step AA Program
It's a commonly used one. SAMHSA claimed that 74% of treatment centers use 12-step programs. It's kind of adopting skills to get rid of addiction, it can be any medication, prayer, and so on. List and point the things that grab you to the back and avoid them.
Also, try to broadcast the message of positivity among the patients around you.
Medication-assisted treatment (MAT)
Medication-assisted treatment (MAT) is a special type of alcohol addiction treatment that includes medication with counseling and behavioral therapy. It can be an effective way to maintain disorder and acquire long-term sobriety.
It also provides a comprehensive approach to alcohol addiction treatment. It can help to decrease the risk of alcohol-related health problems.
Life skills training
Life skills training is a type of therapy in which you can learn important daily life skills you need to live a healthy and productive life. Such as communication skills, problem-solving skills, decision-making skills, time management skills, coping with stress skills, and so on.
Nutritional counseling
Nutritional counseling is a crucial part of alcohol rehab because it can help you in several ways. Such as reducing the cravings for alcohol, addressing any nutritional inadequacy initiated by alcohol abuse, creating healthy food habits and healthy food choices, and developing a plethora of ways of improving health conditions.
Exercise therapy
Exercise therapy is one of the important parts of alcohol rehab. It can help addicted people in different ways.
Such as improving their physical and mental health, decreasing their alcohol-taking willingness, enhancing their confidence and self-esteem, increasing their sleeping time by improving sleep quality, reducing their stress level, and many more.
Recreational therapy
Recreational therapy is a special type of therapy that helps you in recovery from alcohol by using leisure and recreational activities. My cousin is specially a fan of recreational therapy and she says it is the best any alcohol addict could ask for!
It can be used to enhance physical and mental health conditions, decline cravings for alcohol, improve self-esteem and confidence, create many social skills, deteriorate stress, and so on.
Aftercare planning
Aftercare planning is a crucial part of alcohol rehab and it is a process of making plans after leaving the rehab. It helps to stay sober by building a sober life and maintaining recovery.
There are many plans included in aftercare planning. For example, individual and group therapy, 12-step programs, sober living homes, recreational therapy, medication-assisted treatment, and many more.
What is a Typical Day in Drug Rehab Like?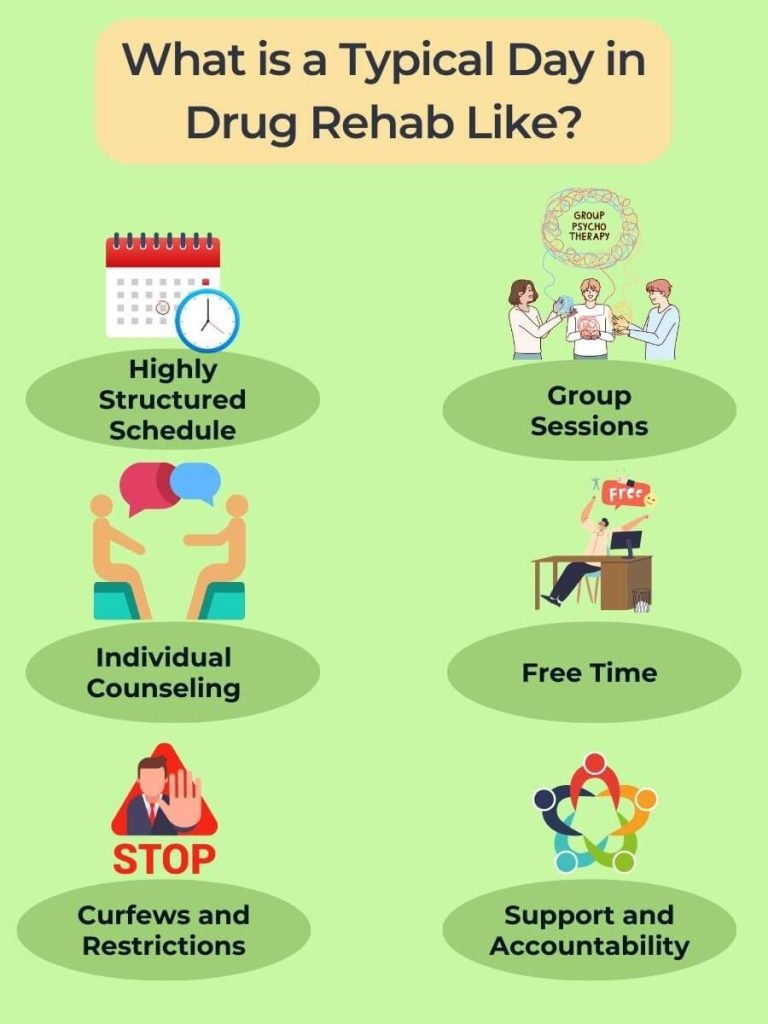 A typical day in drug rehab consists not only of scheduling therapies, and sessions but also self-care, free time for doing something out of your treatment, and so on. It also includes-
Highly Structured Schedule
There are schedules for individuals according to your needs. It's from morning breakfast to sleeping time at night.
Here involves schedules for both inpatient, and outpatient to detox, individual therapy, group therapy, and additional ones including yoga, acupuncture, supervised excursions, mindfulness-based relapse prevention, art therapy, and so on.
In the schedule which section is needed for how much period with the structure everything is mentioned strictly.
It includes support groups, psychoeducational groups, skills development groups, and many more. Where the patients share their own experiences and create a strong bond as well as get mental satisfaction.
Group sessions are mainly held in the afternoon after lunch.
Individual Counseling
In the day rehab program, there is individual counseling too. Where special treatments are given to you which are specifically needed for your betterment. It also took place in the afternoon.
Here you can get help for anger management, stress management, trauma experiences, coping skills, and so on.
Free Time
There is a high chance of getting 1-2 hours of free time in the afternoon. Here you can enjoy the facilities of the rehab including gaming facilities such as ping-pong, basketball, soccer, and volleyball, extra amenities such as a spa, and pool, self-development facilities such as karaoke, art activities, yoga, and so on.
Curfews and Restrictions
Here involves the timing of you waking up at 6 AM for sessions/therapies and the timing of your sleep at 10 PM.
Also, there are restrictions on carrying things with you such as drugs, cigarettes, and cell phones(in most cases).
Support and Accountability
In rehab, you may get support from not only the specialist but also from your family, and other staff and patients too.
Also depending on your situation rehab offers daily check-in service, random drug tests, specific goal setting, and so on.
Aftercare Planning
Alcohol rehab not only supports you before and while in rehab but also after rehabilitation. At this time, there is a high chance of relapse.
There involves-
Continuing Treatment
It is applicable for both inpatient and outpatient rehabilitation. Here as per your need, the whole treatment can be extended.
Also, it will help you to get sober living at home, providing you with relapse prevention planning and so on.
Relapse Prevention Planning
It is a crucial part. It helps to create many outstanding strategies for coping with triggers without taking alcohol.
There are some common evidence-based relapse prevention strategies for alcohol addiction. Such as therapy and skill development, medications, monitoring, and so on.
Recovery Support System
There are several recovery support systems for alcohol-addicted people. These help you by providing the support you need to become sober and recover from your addiction.
Some most common recovery support systems are 12-step programs, peer support groups, individual and group therapy, medications, recovery coaching, recovery housing, and many more. One of my friends took a 12-step programs for alcohol recovery and was hugely benefitted through aftercare planning.
Reintegration Planning
Reintegration Planning is a crucial part for people who are searching for recovery from alcohol. It can help you to jump back to your normal life. This can be a very challenging time and some things must be considered at the time of developing a reintegration plan for alcohol addiction.
These are, identifying the goals, developing a support system, making moderate changes, and being patient.
Lifelong Recovery
Lifelong Recovery from alcohol addiction is possible by following some important processes. Actually, for alcohol addiction, there is no cure, but with proper treatment and support people can learn to stay sober. You can do some things to achieve lifelong recovery from alcohol addiction.
These are: getting treatment, joining a support group, making lifestyle changes, getting regular checkups, and staying connected to their recovery community.
A Case Study on Noah Thomas and His Experience in Alcohol Rehab
Noah Thomas is a YouTuber.Mostly known as "bignoknow" to you. In February 2020 he checked into an inpatient rehab because of this out-of-control alcohol addiction that causes anxiety, and depression. And the good thing is he was eager to get rid of his addiction which makes the path easy for him while in rehabilitation.
The timing, therapies, and sessions helped him a lot to quit his addiction. Also, in group therapy, he got to know about others' experiences and tried to deal with his one.
On the other hand, the yoga, gym facilities helped him a lot to deal with the situation too. The coping skill he got from the aftercare still helped him to be sober.
People Also Asked
What happens when you check into an alcohol/ drugs rehab center?
It starts with an interview and ends with completing your treatment when you check into an alcohol/ drugs rehab center.

First of all, you will be taken on a tour to introduce the staff, place, therapist, and all facilities of the alcohol and drugs rehab centers and will be assigned a specific room where you need to follow some mandatory rules.

After these days you need to attend some individual and group therapy and medication to recover from addiction.
How long is alcohol rehab last?
Alcohol rehab programs can last from several weeks to years.

The time length of the rehab process for alcohol depends on several factors such as treatment program type, the addiction severity, the patient's individual needs, and so on. It can be short rehabilitation (3,5,6 days rehab), 1 month, 2 months, 3 months, 6 months, 2 years, and many more.
What is the success rate for alcohol rehab?
According to the National Institute on Drug Abuse, the relapse rate for addiction is 40-60%. This means approximately 40-60% of people relapse after rehab treatment.

The success rate for alcohol rehab varies depending on the study and the criteria used to define success. Some studies have found that up to 80% of people who complete alcohol rehab are sober one year later, while others have found that only 20% are sober after five years.
Rehab is the best and comparatively safe place to get rid of addiction. Here involves several effective treatments by the specialist for every additional support you need to quit the addiction.

Even here is an alcohol rehab daily schedule, which may help you to find out everything. Also, a rehab will offer you aftercare support too.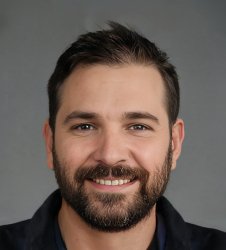 Latest posts by Tony McKenzie
(see all)