Rehab clinics will help alcoholics as rehab centers do but with fewer amenities.
Alcohol rehab clinics must consult you, and give you proper guidelines and limited options for treatment but can be suitable for you if you are looking for an easy-to-access and in-budget treatment.
In this blog, you are going to learn the ins and outs of rehab clinics and make a way to get rid of addiction.
Why Need Rehab Clinic?
Rehab clinics play a pivotal role in helping individuals break free from the shackles of alcoholism, offering a path towards a healthier, sober life. The alcohol abuse rehab clinic is the place that not only deals with your addiction but also provides you with the option to get healthy and fit. 
‌In the rehab clinics, they find out the severity of your addiction, give treatment that is needed for you, and help you to stay sober.
At the same time, while recovering many changes are noticed and one of these is changes in body function, and issues with hands, and legs as while treating your nerves you may face changes too.
In that case, an alcohol rehab clinic has options to support your physical issues too.
Also, mental health issues are one of the concerning facts while treatment such as anxiety, depression, emotional breakdown and so on. Rehab clinics support you here too and make you able to deal with these breakdowns.
Types of Rehab Clinics
Depending on the severity of your addiction, budget, location, treatment plan, and amenities, there are several rehab clinics with different types. Such as-
Long-Term Rehab Clinics
Here, 24/7 treatment is provided and applicable to addicts who have serious addictions. They provide treatments including detox to aftercare programs and therapies along with individual, group, and family as per your needs.
It lasts from a month to a few months. In clinics, most of the long-term rehabs are usually not extended more than a few months.
Short-Term Rehab Clinics
For those who have minor addiction issues and can recover within several sessions this rehab facility is for them. All the needed treatments, therapies, and sessions are given as long as you don't recover. 
There are few families in my residential area who have benefited from short term anger rehab clinics as well as drug rehab clinics. They mentioned that the group sessions were the most helpful for them to get out of their nightmare addiction.
It is usually a residential one and lasts 21 days to 42 days.
Outpatient Rehab Clinics
In this rehab, you'll get all the treatments, and therapies which are needed for your betterment but staying at your own home.
There you need to attend the programs, sessions on time and stay at home and continue your daily schedule as well.
Inpatient Drug and Alcohol Rehab Clinics
It can be for both long term and short term rehab. Here, it's needed to stay at rehab and attend the sessions from here. Even in some inpatient alcohol rehab private clinics you'll get amenities such as gym, pool, individual rooms and others.
Some renowned luxury rehabs are Aton Center – San Diego, California, Sabino Recovery – Tucson, Arizona, Greenhouse – Dallas, Texas and many more.
What to Expect from Alcohol Clinics?
A statistic shows that there are around 16,000 rehab facilities in the USA. And all of them are accessible when needed. An inpatient drug and alcohol rehab clinic is a place that helps you to remove substance use disorders from your life and help you to live a healthy life longer.
The days of rehab started at the time you stepped in there and decided to have treatment. There may be several usual expectations from them too. That includes-
Proper questioning and a corporate counselor to share your thoughts.
A successful detox process and the specialist should find out your underlying issue.
A proper guideline and treatment plan for further treatment after detox.
Get the best treatment plan among long-term, short-term, inpatient, outpatient, and others. Select as per your need.
Get proper treatments, therapies, and sessions including a 12-step program, Cognitive-behavioral therapy (CBT), Motivational-enhancement therapy (MET), Medication, Group Therapy, Individual Therapy, and so on.
Suitable environment for continuing your treatment and control over triggers.
Proper skill development training, coping management training, and others to stay sober for a long time. Even after completing rehabilitation successfully.
The success of treatments and aftercare programs including support groups to stay sober.
How Alcoholics Get Help from Rehab Clinics?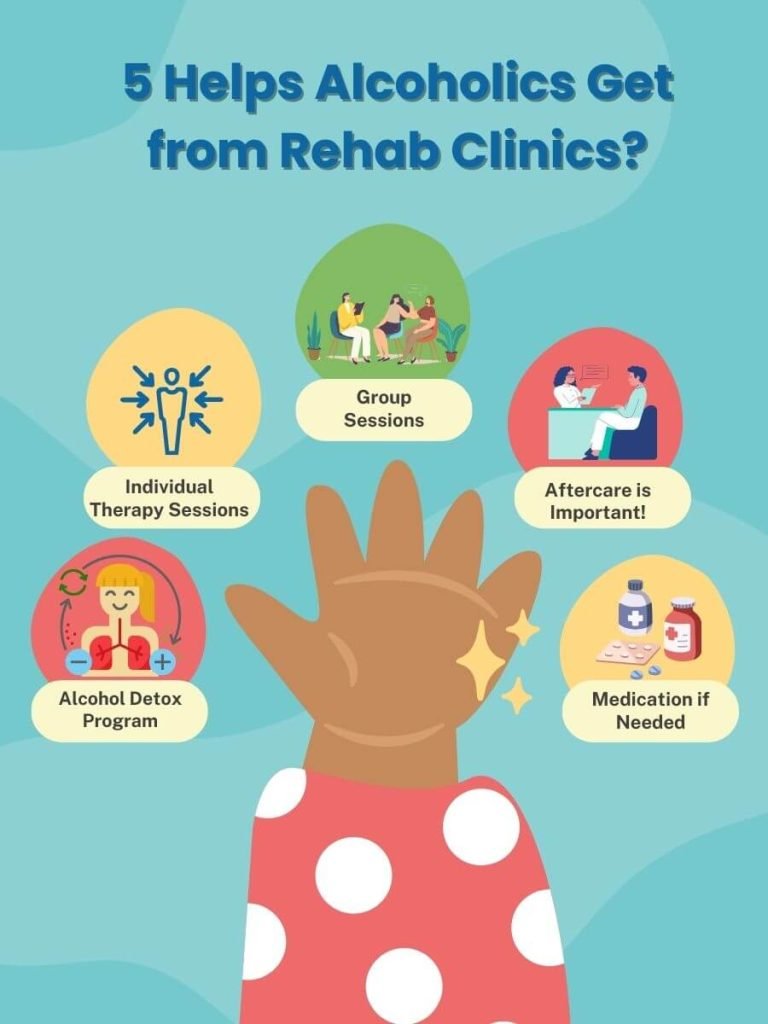 Of course, they help you to overcome your addiction with treatments,therapies, sessions, support groups and so on. Some of them are-
Alcohol Detox Program
It's the first step toward your recovery. You need to quit drinking and the withdrawal symptoms are seen here.
Even the specialist will help you to manage the situation and provide medication if needed.
Individual Therapy Sessions
It's a one-to-one conversation with the therapist. Through this process, the therapist finds out the specific and underlying issues of you and creates your further treatment plan based on this.
Individual therapy includes several sessions along with talk therapy, individual psychotherapy, Cognitive-behavioral therapy (CBT), Dialectical behavioral therapy (DBT), and on and on depending on your addiction severity.
One of my cousins took individual therapy sessions for her severe alcohol addiction. He said that it was the best decision he made! The psychotherapy and talk therapy made it possible for him to quit at some point.
Group Sessions
It's mainly a session with 5 to 15 addicts who are seeking help like you. The group interacts with one or two therapists for a single session.
It helps to deal with your depression, anxiety, and anger issues as well as grow a confidence in you that you are not alone who is facing this. There are others too.
Aftercare is Important!
Most of the time you will stay sober until you are on your treatment and recover soon. But things start changing when you return from rehab and start facing your daily life.
At that time triggers may hit you but staying sober is the most challenging task then. Alcohol abuse rehab clinics support you in those cases with aftercare programs with support groups.
The meetups of the group help you to stay calm and ignore addictions.
Medication if Needed
It's an optional one and you will get it when you need it.
It requires during or after the treatments or therapies to manage withdrawal, cope with triggers, relapse prevention, and so on.
How Effective are Drug Rehab Clinics
No doubt that drug and alcohol rehab clinics play a major role in helping you step into a new life from addiction. The indicators that represent the rehab's effectiveness are success rates, reviews from previous addicts, their treatments, therapies, and so on. Have a look below to get the details-
Success Rates Vary Greatly
A report by NIDA (National Institute of Drug Abuse) shows that 43% of addicts who complete their rehab treatment appropriately get a sober life.
And relapse isn't a big deal, it's a part of treatment too that can be fixed by several sessions and training. So, ultimately, the success is shown in a good number.
Completing Program Predicts Sobriety
After completing and cooperating with the overall treatment process, it can be easily predicted how much coping skill you have gained to stay sober and according to this the further steps can be accounted for.
Medication Helps Complete Treatment
Medication is the thing that helps you stay sober, develop coping skills, and teach you relapse prevention skills to keep yourself away from triggers.
Therapy Changes Habits
Therapies are scheduled daily and according to the needs of the individual. Regular therapy makes you able to change your addiction habit and start living a stable life without substance abuse.
Aftercare and Community Support
After completing rehabilitation there's a number of things that affect and distract your mind. Aftercare and support groups are those from which you can know about others point of view toward life after returning from rehab. That may help you to choose a better way and stay sober.
Rehab Clinics Cost Ideas
The cost of drug and alcohol rehab clinics may vary according to the length of treatment, type of treatment plan, severity of addiction, location, and so on.
According to the rehab type an outpatient rehab costs $1400-$10,000 for a single month. But in a single month inpatient rehab costs up to $20,000, which includes most of the treatments, sessions, and therapies. And for a two-month or three month rehabilitation the costs increase.
On the other hand, additional treatments, and sessions may cost additionally, such as inpatient rehab included with the total cost in most cases. But for outpatient rehab, I need to pay an average of $525 for a single session.
A Typical Day in an Alcohol Rehab Clinic
An alcohol rehab clinic is one of the best ways to deal with your addiction. There you find a proper way of living life without alcohol. They provide you with a schedule that not only includes treatments, therapies, and sessions but also some training, skill development sessions, and so on. Know how is a rehab day going to be-
Mornings: A Delightful Start of the Day
You need to wake up early, around 7 a.m. There's a saying that "Early to bed and early to rise makes a man healthy, wealthy, and wise." It's applicable here too. Your day may begin with a medication or healthy breakfast and medicine and continue with a session.
Most of the time the session might be a group session or individual session. The therapist may want to observe your change or symptoms. And from here the day continues with other sessions and therapies.
Afternoons: Make Your Mind Calm
In the middle of the day after lunch, sessions such as family therapy, group therapy, individual therapy, or skill development training may take place. Also, you can get free time to use the gym, and pool to maintain your nutrition and be healthy as well as motivated towards your treatment.
Evenings: Get Time for Yourself
‌Here, you can get time for yourself too and also have a session. At that time most sessions take 60-90 mins. Then after dinner, you will get some time for medication or other stuff to have a good sleep. In my experience, yoga before sleep helps a lot to have a tight sleep.
If you are looking for rehab, then why are you taking time? You are one step away from a stable and sober life. It's not too hard to deal with your addiction. Just go for a proper rehab and notice your changes by yourself. In rehab, this is going to be flexible as well as supportive.
So, pick up your phone and search for the best rehab around you and go for it.
FAQ
Are Drug Rehab Clinics a Scam?
No, not all the drug rehab clinics are a scam.
Rehab is a critical part of life and it becomes more furious if you are trapped by a scam clinic. So, before checking into a rehab know their reviews, verify their certification, and insurance, search online, and try to know in detail about them. If possible visit the rehab to avoid any scams.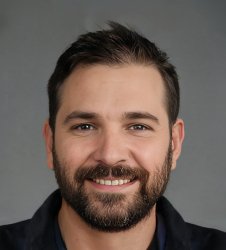 Latest posts by Tony McKenzie
(see all)